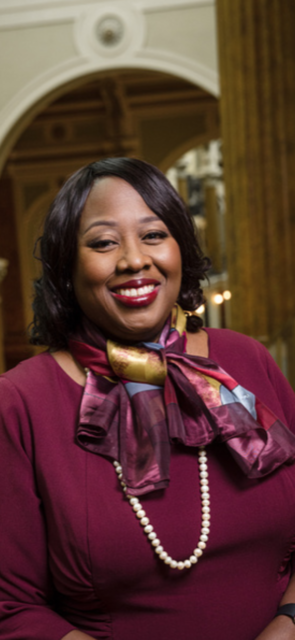 Greetings,
I am thrilled to welcome you to the Department of Library and Information Science (DLIS) at the Catholic University of America! Our program offers professional training for students to learn the principles of information creation, management, and use. They also acquire the practical knowledge and skills to help them obtain rewarding jobs and develop novel information systems and services. Our strong curriculum, grounded in Catholic Social Teachings and signature programs such as Cultural Heritage Information Management, Law Librarianship and School Library Media, along with other popular programs like Community Services Librarianship, Data Science and the Visions of Italy study abroad course have produced innovative and critical thinkers who will become our next generation leaders in the information professions.
Our students are energetic and involved in professional organizations in the Department as well as various community service projects. They are concerned with issues that are aligned with the Catholic identity such as equal access to information and services to underserved communities. Small classroom sizes allow students to know faculty well and provides opportunities for collaboration on research projects. We sponsor an annual symposium that brings students, professionals, and alumni together to present on current research and trends in LIS. The Sr. Thea Bowman Social Justice lecture series features prominent scholars who discuss various topics at the intersection of LIS and social justice.
The Department's strong connection to the DC Metropolitan region provides students with practicum and internships possibilities with libraries, archives, and museums in the surrounding area. Many of our students go on to work in organizations in the DC region such as the Library of Congress, the Smithsonian, and the National Archives. We have alumni employed around the world in organizations like Google, the British Library and numerous information centers. Our thriving alumni association is a testament to the vibrancy of our program.
Faculty are renowned compassionate scholars with a variety of expertise and interests that are reflected directly in our educational programs and are deeply invested in helping students achieve their professional goals.
Thank you for your interest in the Department of Library and Information Science. Please feel free to contact us for additional information about our programs. We look forward to seeing you.
Warmly,
Dr. Renate Chancellor
Chair, the Department of Library and Information Science