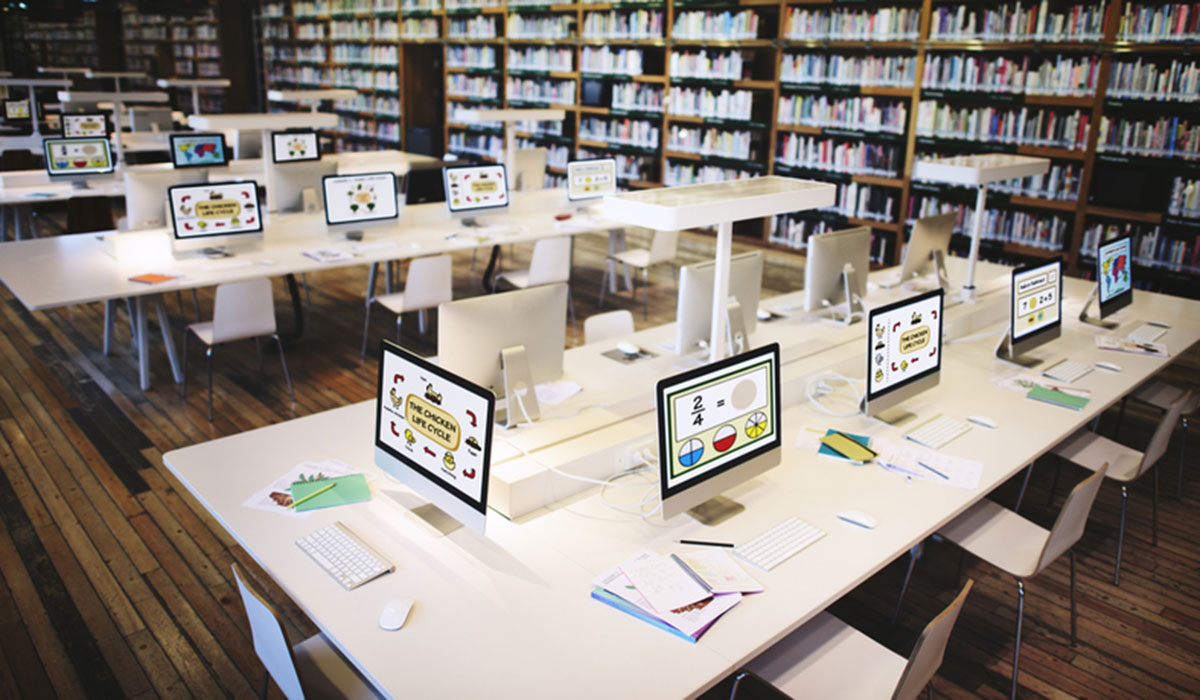 The school library media (SLM) program is selected by students who wish to work with young people in school libraries of public and private K-12 institutions. SLM program at Catholic University offers three choices: (1) Master's in Library and Information Science (MSLIS) specialized in SLM, (2) non-degree program for school librarian license only, and (3) non-degree program for professional development.
SLM program resides in the Teacher Education Program, accredited by the National Council for the Accreditation of Teacher Education (NCATE), and the Library and Information Science (LIS) program, accredited by the American Library Association (ALA). The program is also state approved by the District of Columbia Office of the State Superintendent of Education (OSSE). Those who have completed the SLM program are eligible for a license/endorsement in DC and — through a reciprocity agreement — in other states and jurisdictions including Virginia and Maryland.
Besides face-to-face courses, the department offers a completely online program for the SLM course of study and a variety of courses that focus on school library media services. Each student is required to take the four required core courses along with appropriate mid-level and advanced courses.
Note that very specific requirements must be fulfilled in order to receive the state-issued certificate, which is required to work in public school libraries. Because of this, it is vitally important that students pursuing this program of study stay in close contact with the SLM advisor, Dr. Sung Un Kim (kimi@cua.edu), to ensure that their course work will fulfill state requirements.
Required core courses for all students are:
LSC 551 Organization of Information
LSC 553 Information Sources and Services
LSC 555 Information Systems in Libraries and Information Centers
LSC 557 The Information Professions in Society
Students interested in receiving the school library certification are required to take the following electives:
LSC 606: Cataloging and Classification
LSC 641: Collection Development and Management
LSC 731: Media Integration in the Curriculum
LSC 752: Design and Production of Multimedia
LSC 848: Media for Children
LSC 849: Media for Young Adults
LSC 872: Administration of School Library Media Programs
LSC 695B: School Library Media Practicum
LSC695B School Library Media Practicum (linked to
https://lis.catholic.edu/academics/courses-of-study/school-library-media/practicum.html
) provides a unique opportunity for students interested in a career in K-12 librarianship to gain professional experience in a school library. In order to arrange practicum sites, contact the Practicum Coordinator, Dr. Sung Un Kim (kimi@cua.edu), at least the semester before the Practicum is to be completed. For more information about this specialized practicum, please visit the School Library Media Practicum site.

All course credits are three (3) credits. Total minimum required credits for graduation is 36 credits (12 courses). Teaching experience may waive the SLM practicum and courses from a previous master can count for similar required SLM courses. In that case, the SLM requirements can be met with 33 or 30 credits.  Students need to consult with the SLM advisor to confirm their study plan.
School Library Media course of study checklist (.docx) 
School Library Media flyer (SLM Flyer)
Organizations of interest to students in School Library Media Services
Professional associations are important sources of information about the profession, continuing education opportunities, scholarship support, and networking. Most have student membership rates.
Dr. Sung Un Kim
(
https://lis.catholic.edu/faculty-and-research/faculty-profiles/kim-sungun/index.html
) 
is the faculty advisor for SLM.
Page updated January 2020