This Year's Theme: Renewing Our Value
Friday, January 31, 2014
Great Room, Pryzbyla Student Center
The Catholic University of America
Call for proposals
Proposals are no longer being accepted.
Registration
Registration is now open. The fee is $20.00, which includes lunch. All attendees must pre-register; no on-site registrations will be accepted. To register now using our secure site, go to: https://regstg.com/Registration/Registration.aspx?rid=a84844a1-8737-4987-9c1e-08f37663b60c.  

Parking will be available during the Symposium in the lot behind O'Boyle Hall. Campus Security has informed us that they will relax enforcement in that lot only. Guests who park in other campus lots without a valid CUA permit may be ticketed.
Program Agenda (Preliminary)
9:30am - 10:00am
Registration and Coffee
Pryzbyla Center Third Floor
10:00am- 11:00am
Opening Session Great Room B
Welcome: Dr. Lawrence Poos, Dean, School of Arts & Sciences
Keynote Address: Michael Edson, Director, Web & New Media Strategies, The Smithsonian Institution
11:00am-11:15am
Break
11:15am-12:15pm
Morning Breakout Sessions
Session #1: Cultural Heritage Information Management (Great Room C)
A Record of Oral and Pictographic History: Winter Counts and Native American Recordkeeping, by Jane Zhang
Changing the World of Art Librarianship, One Book at a Time by Sally Stokes et al.
Session #2: Issues in Discovery Services for Libraries (Great Room B)
Session #3: Session: Career and Personal Development (Room 321/323)
12:15pm-1:45pm
Lunch & Poster Presentation
Great Room A & B
1:45pm-3:00pm
Afternoon Breakout Sessions

Session #1: Current Issues in Law Librarianship (Great Room C)
Session #2: Academic Librarians: Trends and Challenges (Great Room B)
Session #3: Emerging Topics in Health Information (Room 321/323)
Young Adults' Health Information Behavior on Facebook: Source Credibility and Information Activities, by Sue Yeon Syn, The Catholic University of America, and Sung Un Kim
Partnering for Value, by Jamie Stevenson
Conceptual Approach to Linking Information-Seeking Behavior and Patient Health Outcomes, by Jennifer McDaniel
Library Services in Health Care Societies and Associations in the United States and Canada: A Survey Conducted by The Health Association Libraries Section of the Medical Library Association, by Lynn Dunikowski et al.
About the Keynote Speaker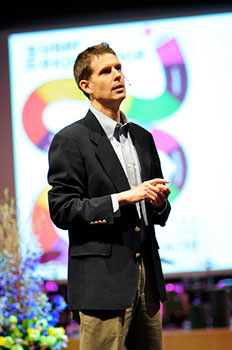 Michael Edson is the Director of Web and New Media Strategy in the Smithsonian Institution's Office of the CIO. Michael has worked on numerous award-winning projects and has been involved in practically every aspect of technology and New Media for museums. In addition to developing the Smithsonian's first Web and New Media Strategy, the Smithsonian Commons concept, and the Smithsonian's Web and New Media Strategy Wiki, Michael helped create the Smithsonian's first blog, Eye Level, and the first Alternative Reality Game to take place in a museum, Ghosts of a Chance. Michael is an O'Reilly Foo Camp veteran and serves on the Open Knowledge Foundation's Open GLAM advisory board. He was named a Tech Titan: person to watch by Washingtonian magazine.
Sponsorships
Thank you to our 2014 sponsors: Proquest and Springer


Parking
We encourage attendees to use Metro if possible. The Pryzbyla Center is a short walk from the Brookland Metro stop. If you are driving, you may park in the O'Boyle lot at the north end of campus. However, spaces are limited and regular restrictions will be enforced in other university parking lots. 
Accommodations and Special Needs
Please include any disability accommodations or special dietary needs, when you register, or contact the Symposium Committee at cus-lis-symposium@cua.edu or 202-319-5551.
Symposium Committee
Dr. Renate Chancellor, Dr. Sung Un Kim, David Shumaker
Committee shared email address: cua-slis-symposium@cua.edu